Deals Episodes
Door Decor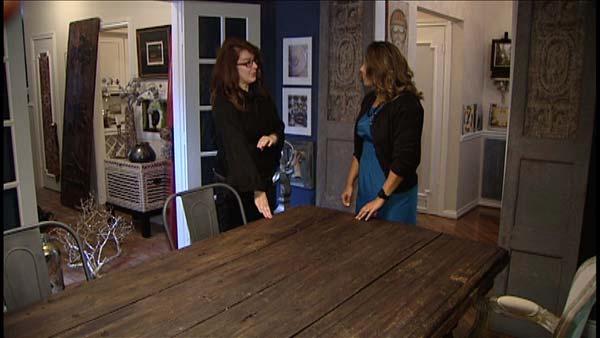 Doors can be beautiful accessory holders or dramatic accents. Find how to turn those plain white doors into beautiful masterpieces!
"I love doors! I don't think people notice doors as much or they just don't think in creative ways because they are a blank canvas totally waiting for an opportunity to create interest or drama and just really feed into the flow of your room in a design," said designer Pamela Miltenberger.
Pamela invited us to her home to see all the unique and creative ways she displays doors!
"My home is definitely my design lab. I experiment here," she said.
Pamela says your front door sets the tone for the rest of your home, so it should stand out!
"With my front door, it was a dingy, dingy white when I first moved here," Pamela explains. "I found a red paint, painted my door, painted the trim around it as well because people forget to paint the trim and they would just leave it white and that would be just boring. You don't have to go all out, go crazy and spend a lot of money, just add some color."
But, as Pamela shows us, doors aren't just for walking through. She turned a door into a table for her dining room.
"I found the old door at just an antique shop and my friend is a fabulous designer and carpenter, he built the base for me and my father helped build the legs," she said.
She also added two door panels on either side of the entry to her dining room.
"I needed a focal point so I found these great door panels and they were just perfect in size and I just leaned them up against the door frame -- that's it," she said.
She also leans an old door in her front entryway.
"It's just as important as your exterior door, when you first walk in, you need something that makes a statement and that's pretty bold," she said.
Pamela prides herself on budget shopping. She says some she even scored a few door for free.
"I went to the back of a theater a local theater here and I know because I do theater and theater design, they throw away lots of things they can't store," she said.
She says community theaters and construction sites are great places to find free stuff, just make sure to get permission before you start hauling stuff away!
"I see the beauty in odd things and everyday mundane things. It doesn't have to already be fabulous. I see the beauty and I love the imperfections so I said, 'I don't know what I'm going to do with it, but I'm going to do something with it,'" she said.
She turned a door panel into a hanging shelf from her ceiling.
Using 12-by-12 sheets of scrapbook paper she transformed the door in her living room. She cut squares to match the door and glued it using spray adhesive.
She also turned one door into a room divider and decked it out with jewelry, turning this door into a working piece of art.
"You don't have to spend a fortune and who can really these days, and why, if you can make something that's just as cool and has an impact and it creates conversation and that's what I like," Pamela said!
Check out Pamela's blog at interiorspacelift.blogspot.com.