Deals Episodes
Decorating with Duct Tape and Stickers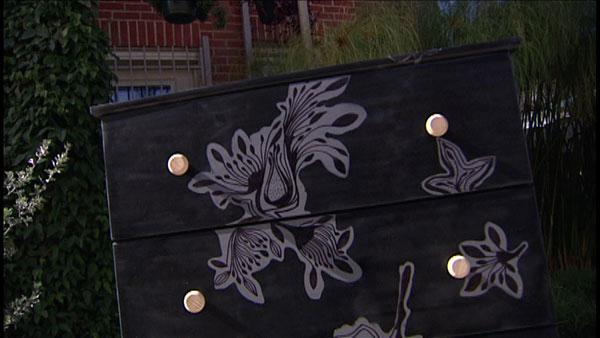 Are you looking for some cheap home decorating ideas? Grab some tape! You can create custom furniture and accessories with these DIY tips.
"Custom is creating your own so if you have the time and you're willing to do it, you can save a lot of money," said designer Vernon Caldera.
IKEA TARVA Dresser
Materials:
Dresser
Stickers
Spray Paint
Directions:
Paint the dresser with a primer or color of your choice. The key is whatever color you want underneath the stickers is the color you start with.
As soon as the primer dries you can add your stickers.
Make sure the drawers are all lined the same way and the in-seam is at the bottom. As you're applying the stickers, make sure they are completely flat -- especially around the corners.
Once the stickers are in place, paint the entire dresser in black lacquer or color of your choice.
When the paint completely dries you can remove the stickers. You can leave it like that or if you've got a little artistic ability you can draw on it.
Duct Tape Chair
Materials:
Chair
Spray Paint
Duct Tape
Directions:
Paint the chair in the colors of your choice. Kat chose black and white.
Once the seat is dry add duct tape. Kat chose a diagonal pattern. Vernon starts in the middle with one color and uses contrasting colors (red, blue, yellow).
Duct Tape Picture Frames
Materials:
Directions:
Apply the duct tape in the design of your choice directly to the back of the picture frame.
Add the glass and you've got a unique, piece of art.
Special Thanks to IKEA. For more information on Ikea visit IKEA.com.
For more information on designer Vernon Caldera visit www.vernoncaldera.com.