Deals Episodes
Decorate with Old License Plates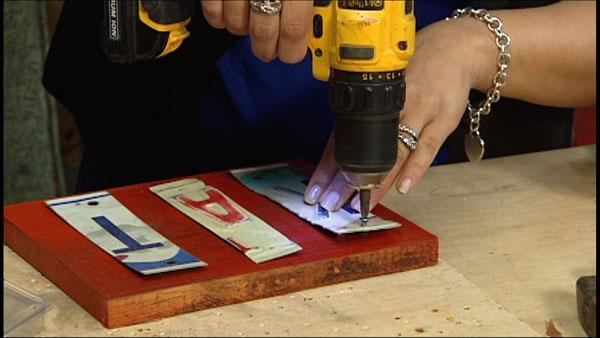 Artist Kiki Neumann demonstrates ways to reuse old license plates, from creative home decor ideas to making a garden tote.
Winged hearts to display as wall decor or vehicle hangings
-One or two license plates
-Rivets and hand rivet
-Awl or drill with metal bit
-Tin snips
-Hammer
-Black marker fine point
-Sandpaper or power hand sander
INSTRUCTIONS:
-Draw a heart
-Make a pattern for wings
-Take marker and outline on license plate for cutting
-Use tin snips to cut out pattern after you have trimmed away as much as possible so close cuts are easier
-Clean off marker and sand edges of license plate to take off rough spots
-Place right wing under edge of heart. With drill or a metal hand punch, place a hole for rivet. Attach rivet and then add another one nearby to secure the wing.
-Place left wing to visually match the right wing and attach the same way.
-Hammer to flatten a bit (hammer gently on a flat surface on the backside so as to not leave smash marks).
-To display, drill two hole near top of heart for wire to hang or place several holes in center to attach to vehicle.
Street address signs from license plates
-Wood scrap
-Tin snips
-Awl or hand drill with metal bit
-Safety glasses
-Hammer
-Small screws- 2 per number
-Paint wood if desired beforehand
-Screws to hang or wire
INSTRUCTIONS:
-Scrap wood at least 6 inches wide
-Length is determined by number of numbers
-Straight cut numbers and try for rounded corners on the first and last numbers. If you cannot find numbers with the rounded corners then take tin snips and round edges manually. It gives the address sign a more polished look.
-Take awl or drill and place holes at top and bottom of number and add the small screws to secure numbers- 2 per number or what you would like in order to keep number placed against wood. Then take hammer and gently tap number edges since the license plates tend to get bent a bit from cutting.
-Place hardware on back for hanging or drill holes for using screws for mounting.
-Step back, admire and display proudly.
Unique license plate garden tote

-Wood scraps (best to use either 4 or 6 inch pine or cedar fencing)
-Awl or drill with metal bits
-Safety glasses
-Paint wood prior to assembly
-To create a handle, broom sticks can be used
-Small screws or nails
-2 license plates- no cutting
INSTRUCTIONS:
-The measurements are for the 4 inch pine used in photo.
-Bottom is:
-Sides are:
-Broom handle same cut as bottom piece:
-Cut wood for bottom board. It you have a handle then cut that piece the same size at the same time since it is the same width.
-Cut two side pieces and paint what colors or pattern your sweet heart desires. This is the fun part so that it is complimentary to your license plate.
-Attach wood pieces for garden tote with either nails or screws - and use wood glue if you would like a more secure hold, depending on what you have.
-After you have make your frame for box, take your 2 license plates and drill holes to secure to the wood frame. Don't forget to do a few along the bottom of the license plate. Attach plates with your screws or nails.
-Place broom and attach with drilling a hole firsthand then line up a screw or nail to go into the broom handle from side of wood. This is the hardest part because it is easy to miss and split the broom handle. It happens! If that happens, maybe you don't need a handle after all.
-Place your tools, gloves and seed packets in garden tote. You won't misplace it since it will always stand out in the greenery of your garden. I also use mine inside for papers, pens and the TV remote while watching "Deals".
For more information, visit:
www.kikineumann.com