Deals Episodes
Deck Makeover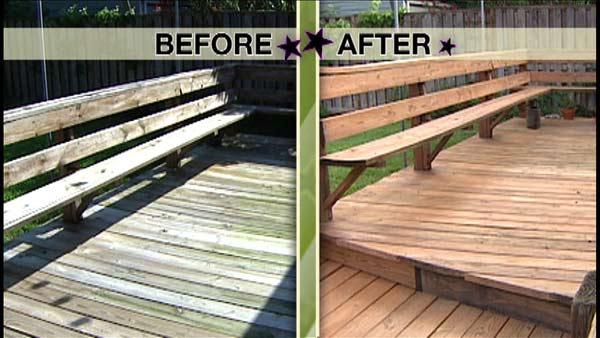 It's a place to hang out with friends or enjoy the nice weather, but if you don't take proper care of your deck, it can go downhill pretty quickly.
"I mean it can be pretty serious. A deck that is properly clean and treated can last 30 years -- 25 to 30 years. A deck that isn't can go south as quickly as 10 years."
Jeff Wilson, a professional do-it-yourselfer, says taking care of your deck is simple, and affordable.
"It's not an expensive thing to do and it's easy to do yourself. All toll in what we will use today, I'm going to guess we will be under $50 for the actual stuff to clean and treat a deck. I say even if you buy the tools, you are going to be probably under 100 bucks to clean and treat a deck," said Jeff, "It's an inexpensive thing to do and saves you so much money in the long haul."
So, how do you know if your deck needs a makeover? You might be able to see the problems.
Water and sun can damage your deck. "Water damage can come in the form of cracks. Basically what happens is water soaks into the wood - either you have a freeze/thaw cycle or a wet/dry cycle the wood expands and contracts depending on whether it's wet or dry and these cracks appear. The second kind of damage that water can do to your deck is through living stuff. See down here you've got green algae you can see. Sunlight damage... you can see the graying of the wood, you can see the finish begins to lose its effectiveness overtime as the sunlight gets UV damage. The wood gets that silvery color. That's sun damage," said Jeff.
Another way to tell if your deck needs sprucing up is to try what Jeff calls the "splash test."
"Basically you take some water, you splash it on the boards of your deck -- if it soaks it in and darkens the wood, then your deck needs to be redone. If it beads up on top and sits, that means your wood is still protected and you can wait some more."
First step in a deck makeover - clear it off and get to cleaning!
"The cleaning is the critical part of the process. In our case, we are going to use what's called a heavy duty deck cleaner. We take the deck cleaner, pour it into a pump up garden sprayer, plastic pump up garden sprayer and we spray that on a portion of the deck that we can easily work here in the sun. We don't want it to get dry, we want to work the product while it's damp on the deck. We'll spray that on, we'll let it sit for 10 minutes, then we'll come back with a stiff bristle brush on a pole and we'll come back and clean it, and that will help get any tough stains removed. Once we do that with a brush, we'll come back with a garden hose with a good strong stream and we will rinse it really well," said Jeff.
Jeff says it may be tempting, but don't use a pressure washer.
"People are fond of cleaning their decks with pressure washers. I actually tell people to shy away from the pressure washer. While the pressure washer will clean a deck it's possible to damage the deck. To do more harm that good to the deck using a pressure washer."
Now, wait 48 hours for the deck to dry. After a good cleaning, our deck was free of mold and mildew and the wood color was even. Jeff says wait another day or so for the deck to dry before applying the stain. Another money saving tip is the darker you go, the longer it will last.
"Clear water proofer will last a year maybe two. A tinted water proofer like this one that's got some tint in it will last 2 to 3 years. A semi transparent stain might last 5. A solid stain can last up to 10 to 12 years.
The key is the more pigment that's in a product; the more it's able to reflect sunlight, UV damage, so the coating will last longer."
It is a simple process of cleaning and treating that can really save your pocketbook.
"Your deck is an investment. It's a part of your home that is worth a set amount of money - probably many thousand dollars. If you leave your deck and you don't take care of it, you don't treat it; decks can go downhill pretty quickly."
For more information visit thompsonswaterseal.com.
To find more projects that Jeff Wilson has worked on visit hgtvremodels.com.