Deals Episodes
DIY Window Shutters for your Home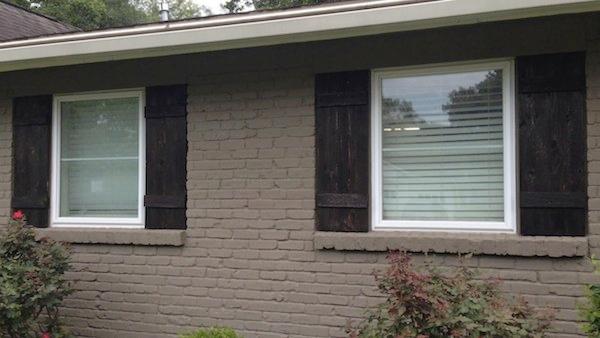 Update the look of your home instantly with brand new shutters. Crafter Adeina Anderson shows us how to make our own for under $15 a shutter.
"Shutters aren't necessary, but they do add nice curb appeal to your house. The only problem? Shutters can cost hundreds or even thousands of dollars! Vinyl shutters are some of the most inexpensive on the market, at $30 to $40 a piece, which can add up quickly. Adeina showed Kat how to make even cheaper shutters that are less than $15 each! Items needed:
1 x 3 x 8 Spruce-Pine Furring Strip (You will need 4-5 pieces of this wood per shutter)
Tomboy Tools:

Drill
Phillips Head Drill Bit
Paint Brushes and Paint Roller
Sanding Block
Level
Measuring Tape

Valspar Outdoor paint (your choice of color)
Plastic covering to protect the ground while you paint
Exterior Wood Screws 1 3/4" long
Miter Saw (or have Lowe's cut the wood for you)
First you need to measure your existing shutters, and then cut the new wood boards to the length of your existing shutters. Next, decide how wide you would like your new shutters to be, we made these shutters 5 wood pieces wide. Now measure the width of your shutter and cut 4 pieces of the wood to that length. Paint all of the wood, front, back, side, top and bottom with the Valspar paint. Let dry completely, about 1 hour. Using a sturdy work surface, place the long wood boards next to each other flat on the work surface. Measure where you would like your decorative wood strip to go, one on top and one on the bottom, they should match up on the back side. You will want to screw the screws from the back to the front so that the screws don't show. Be sure the decorative wood pieces are level using your Tomboy Tools measuring tape and your level. You can remove your existing shutters and hang your new shutters, but if you are not comfortable with heights or don't have a ladder, please contact a contractor in your area to hang your shutters. For more from Adeina, visit
CraftingWithAdeina.com.
Special thanks to
TomboyTools.com.
and
Lowes.com.