Deals Episodes
DIY Holiday Decorations Made from Candy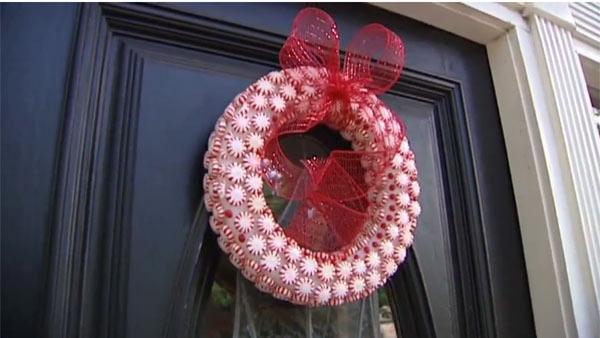 Enjoy that sweet holiday candy without packing on the pounds by turning it into fun holiday decorations! Here's how to DIY a platter and a wreath made entirely out of candy.
Peppermint Candy Platter
You'lll need:
1 bag Red or Green Peppermints
Cookie Tray
Parchment Paper or wax paper
1.Pre-heat your oven to 325 degrees. Cover your cookie tray with the wax paper. 2. Unwrap your candy. I used about 28 pieces - you can use more or less depending on the shape and size of your tray. 2. Stick it in the oven for 10-15 minutes. Make sure to watch it closely, you don't want it to burn. When it's completely melted remove from the oven and let it cool. If it's hot where you live you may want to dust with cornstarch so it doesn't get sticky! 3. Put treats on it, a candle or anything you want to display. You can do this project with other hard candies like jolly ranchers which gives a "stained glass" look. If you get good enough you can even make them into cool shapes! Try using a bowl as a mold. To do this, put the candy, wax paper and all, into a bowl immediately after taking it out of the oven.
Peppermint Candy Wreath
4 Bags Peppermint Candy
1 Bag Red Hots
Hot Glue Gun
Styrofoam Wreath
1. Remove the wrappers. Working from the inside out, glue the peppermint candies to the wreath. 2. Once it's done you can use the red hots to fill in some of the white space. You can also use some of those broken pieces for larger holes. 3. Add a ribbon to the top and hang.