Deals Episodes
DIY Costumes for Kids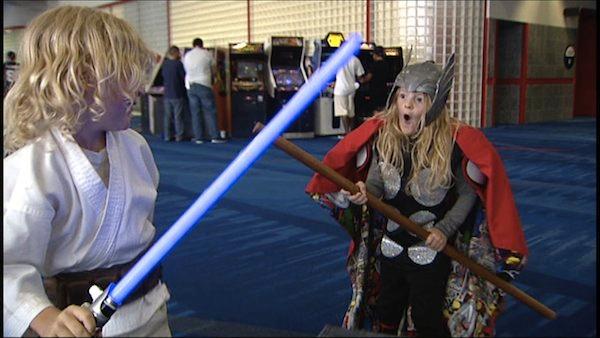 If your little ones love to play dress up, here are some tips from a costume-making mom on how to create the perfect attire that will transform them into their favorite characters without a lot of money or time.
Instead of shopping for costumes for her children, one DIY costume maker says she creates every look at home using materials she already owns. Krysta Myers makes costumes for her kids to wear long before and long after Halloween as they attend comic conventions in character. She recommends it as a money-saving strategy for other parents, especially as kids outgrow costumes quickly. Here are Krista's tips on how to create fun, easy and inexpensive costumes for your kids:
1. Use what you already own.
Blue jeans and t-shirts are just the beginning of pieces you can repurpose. For example, she cuts the collars off t-shirts and cuts down the seams on both arms to create a superhero cape.
2. Use toys and sports equipment.
Krysta says toys and sports equipment are good sources for making your own character props. Under Thor's costume, her son wears football shoulder pads to give him a muscular look. In making Thor's hammer for her son, she used a dowel rod from her closet. To make a Luke Skywalker costume, Krysta used an old karate shirt, baseball pants and ace bandages wrapped around his legs to complete the look. She added a leather belt, and it was instantly a Star Wars classic.
3. Raid the Craft Store.
Small purchases can help embellish a costume but need not cost a lot. She points out a package of mesh tubing, for instance, can be found in stores for a few dollars and be used to create everything from crazy hats and sunglasses to flip flops and decorative fairy hair. Sheets of glitter foam are another helpful costume-making supply, Krysta says. You can cut use them to create a custom-sized superhero mask for your little one. She suggests making a few at a time, in case they break. To get more ideas from costume maker Krysta Myers, check her out on
Pinterest.