Deals Episodes
DIY Baby Favorites: Hooded Towel, Stuffed Animals, Taggie Blanket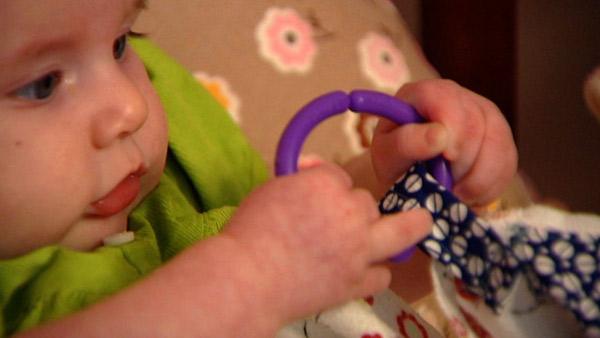 Whether it's a gift or for your own baby, making your own 'taggie' blankets, hooded baby towels and stuffed animals can save you a lot of money.
Andrea Slaydon, Deals producer, loves saving money and has been doing it for most of her life.
"While growing up we always did things to save money, like making things. Once I started having children we started making baby products to save us money and it's really saved us a lot," said Andrea.
Andrea learned most of what she knows from her mom, Sheila Ware.
"I like to save money and scrimp - I was raised by people that grew up during the depression so I learned at a young age to use and reuse," said Sheila.
Sheila is going to show us how to make beautiful tag blankets, stuffed animals and hooded baby towels.
Hooded Baby Towel:
These run $15 and up in the store. Sheila's homemade version costs $1.50 each! (paid $3 for both towel and washcloth)
Items Needed:
Large Towel
Washcloth
Sewing machine or fabric tape
Scissors
Directions: Cut the washcloth in half diagonally. Fold the large towel exactly in half and then cut it. Sew the edges of the cut part of the towel so it doesn't unravel. Sew the cut washcloth to the corner of the towel. If you want to embellish the towel with ribbon or lace, just make sure it's machine washable. you can also use fabric glue if you don't want to sew. When shopping for fabric glue make sure it is permanent and dries clear for best results.
Tips: Typically when sewing, you wash the fabric before getting started. Sheila recommends not washing them - because the towels are pressed and starched for shipping and that makes them easier to work with when sewing.
"Taggie" Blankets:
You can pay $15 and up for these blankets in the store, but making them can cost less than a dollar if you are using scraps!
Items Needed:
Fabric scraps Different textures Pieces of an old towel
Directions: Take a large piece of material (We used a receiving blanket). Cut out patches for the blanket out of the different pieces of materials. Sew randomly on the blanket. Attach a loop on the blanket and in different areas. You can use the loop to attach toys or pacifier, so it will always be handy.
Sheila learned about these "textured" blankets back in 1986, when her second daughter was born premature. The hospital encouraged her to make a blanket using different textured materials to stimulate brain activity in the baby, when she moved around on it.
Stuffed Animals:
Sheila used a simple two-part pattern to make stuffed animals for both of her granddaughters. Andrea's oldest daughter, Claire, loved the sheets from her baby bed. When she moved to a "big girl" bed, Sheila used the sheets to make stuffed animals. Sheila says the pattern by simplicity is just two pieces and simple enough for just about anyone to make.
Here is the link for that pattern: simplicity.com
These are all simple, inexpensive projects that Sheila enjoys making, and her granddaughters also love.
"Knowing that as they grow up and they get babies of their own, they might use them for their own. To be able to say to them when they are older, 'I made that for you when you are a baby,' it makes it special," said Sheila.
"One of the things I love having, items that my mom has made for the girls over the years," Andrea said, "I love using them, when I give the girls a bath and just seeing it's something my mom has made, it means a lot to me."