Deals Episodes
Cleaning Your Car Interior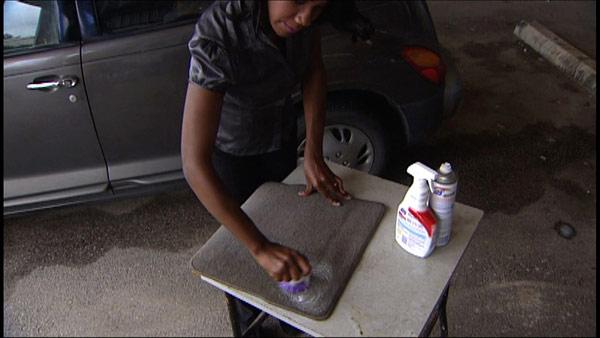 Even if you have deep stains in your vehicle, there is a cheap and easy way to get them out.
First, a milk stain on a car seat and a few soda stains on the back floor mats. This is no easy task but it can be done and on a budget.
Kevin Paxton with Bubbles Car Wash and Detail says for fabric seats and vehicle rugs-- first stay away from strong chemicals.
"You don't want to use harsh chemicals, only ones that are recommended for seats," said Kevin.
Instead he says use an inexpensive fabric cleaner, which will not only tackle the stain but in this case-- the old milk odor. And, for really tough stains, try 409 cleaner.
"You don't use it at full strength. Get a cup then half that with water," said Kevin.
Then, once you dilute it-- get to scrubbing! But use a paint brush.
"You want to use like a deck brush or a small paint brush, that will be good, with small bristles. You don't want to scratch the fabric on your seats," said Kevin.
For deep stains like the ones on the floor mats, Kevin says that may require a little more work with a hard bristle brush. So with this expert's help and guidance we tackled both areas, and got rid of all the stains.
For more information visit bubblescarwashanddetail.com.