Deals Episodes
Cheap DIY Crafts and Games for Kids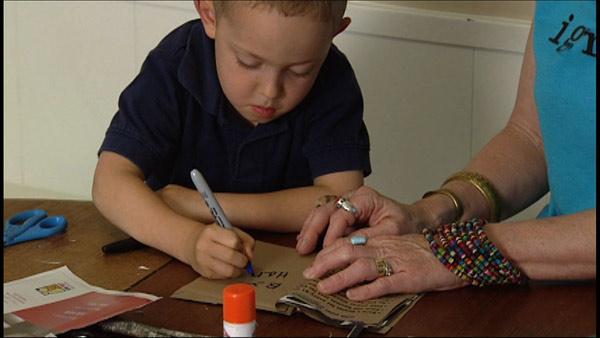 Get your kids excited about using their imagination! Family enrichment expert Sarah Gish shares some game and craft ideas to keep your children entertained on a budget.
You don't have to spend a ton of money on activities for your kids. In fact, you probably can find most of the supplies for Sarah Gish's kids crafts and games in your home.
Create Craft Space:
Create a dedicated space for all of your kids crafting projects. Include the essentials like glue sticks, scissors, tape, construction/scrapbook paper and fabric.
Collect things you'd normally recycle, such as cardboard boxes, the last piece of foil, mailers and old magazines.
Photo Book:
Let the kids pick out any box they want from the recycle bin. (We used a pizza box)
Cut to a desired size.
Cut construction paper to the same size and use a glue stick to adhere.
Cut a few pieces of blank paper inside and cut to size.
Use a hole puncher to make about 3 holes.
Use yarn to tie the book together as a binding.
Decorate the cover however they want.
Print photos from your computer or use real photos and let the kids fill with pictures of important people in their life.
Quote Book:
Similar to the photo book; cut recycled cardboard, fabric or construction paper and blank pages to their desired size.
Find inspirational quotes from the internet and print out on a Word document.
Cut out and allow your child to pick the ones that mean the most.
Decorate the cover and viola! You have a book full of positive and inspirational messages.
iBook:
Use brown paper grocery sacks for this one.
Cut to desired size.
Punch 3 holes once you have the amount of pages you want in your iBook.
Have you child find a stick to use as a binding.
Use yard to tie the stick to the side and act as the book binding.
Using old magazines and mailers, let the kiddos pick out images that they like.
Decorate the cover however they want!
Action Foil Figures:
Have a little foil at the end of the roll but not enough to use in cooking?
Give to the kids and allow them to use their imagination to create shapes and action figure.
This works great when they can try to mimic a real action figure; it allows them to creatively create toys they can play with and destroy.
Scavenger Hunt:
There doesn't always have to be an award at the end of scavenger hunt!
Using index cards, place clues throughout the home to force them to use their brain and become aware of their surroundings.
You can also make a list for them to walk around and write down the answers.
Maybe it's courting all the light bulbs in the house, or finding a picture on the refrigerator, looking on the globe to find a country, get them up and moving. It will teach them to count and be more attentive in their own home.
For more information about Gish Creative visit
www.gishcreative.com
.