Deals Episodes
Candy Bars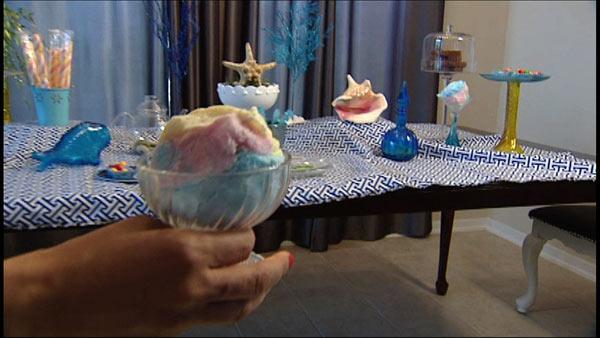 It's probably not what you think of when you hear the words, candy bar. But our 'candy bar' version can be an inexpensive way to turn heads at your next party or gathering.
"A candy buffet is just like any other buffet with regular food, except this one is with candy," said Rina Chandaranda John.
Rina Chandaranda John, author of the "Glam at Home" blog says you can do a candy buffet bar at any event.
"I'm starting to see a lot of candy buffets at weddings and receptions. You can also include them at any other types of functions like baby showers, bridal showers, and birthday parties for kids and adults," said Rina.
It's a good alternative to expensive party favors.
"There's a lot of ways to do this for less. Number one, look around your home and see what you already have to incorporate as some of the décor for the candy buffet," said Rina, "I thought it would be a fun idea to do something beachy. What I did was I had this fabric already at home. It's 2 yards, I picked it up for $12 at a fabric store on sale. And I liked the idea that it had a nice pattern that reminded me of waves. I put boxes that i had at home underneath the fabric to give it that wave like motion. Because I wanted people to be reminded of the sea when they saw this buffet."
"I love collecting shells ever since I was a kid I always used to pick up shells and stones when I would go to the beach so I just used my own collection. I also had vases and plates and all I was able to do is glue them together and then I had a colorful cake stand that would look really pretty," said Rina.
She also got creative with "sea" like decor.
"I went into the attic and I had this turquoise and dark blue and something that looked like seaweed. Décor for Christmas, so I pulled those out and i was able to pull those out and incorporate that. I really liked that because it reminded me of the coral that you would see if you went snorkeling," said Rina.
Now for the sweet part.
"In terms of candy, I decided to use a wide variety to appeal to everyone's taste. Everybody loves chocolate, especially the ladies. Kids love colorful candy. I picked up cotton candy. It reminds me of a seaside carnival. I put them in this little martini bowls, which looks like ice cream," said Rina.
This entire spread cost less than 20-bucks!
"It's nothing you have to create or bake at home. I personally, I'm not a baker so you can already pick up readymade items and include them in the display," she said.
Just include little bags like this by the bar.. have you guests fill it up and take it home and there you go: Easy, cheap party favors.
"Really the sky is the limit, go with whatever you think of. Use your creativity and think about your hobbies and interests when you incorporate those things in a candy buffet."
For more information visit glamathome.com.