Deals Episodes
Cakes for Kids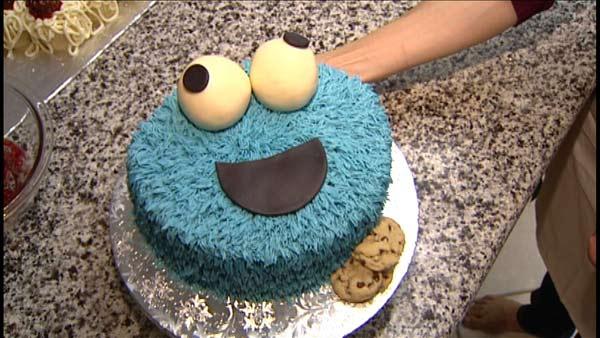 Planning a kid's party? There's no reason to go out and spend $35 to $40 on a fancy kids cake when you can do it yourself!
While making your birthday cake may seem intimidating, stay at home mom Laura Louis says it's much easier than it looks.
"They look very, very impressive but it's very easy simple techniques that you don't even really need to buy very much for and all your friends are going to think you spent hours, upon hours or that you paid someone like me a lot of money to make it for you, but you did it yourself," she said.
Cookie Monster Cake:
1. Start by dirty icing it, which is just a rough layer of icing so the crumbs don't come through.
2. Then you take a grass tip, which is a tip with a bunch of holes in it, and squeeze and release.
3. Use modeling chocolate, which she says is much cheaper than fondant, to create cookie monster's face. She uses Wilton's candy melts because you can get them in all sorts of different colors and you don't have to color it yourself. You just melt it with a little bit of high fructose corn syrup and once it cools, you mold it like clay. Click here for the molding chocolate recipe.
Spaghetti and Meatball Cupcakes:
1. Use a decorating bag with a Wilton tip -- number 7. Or, you can use a zip lock bag and snip the end. You don't want to cut the tip too large.
2. Cover the top of the cupcake with icing so it doesn't dry out.
3. For the meatballs and sauce, Laura uses Ferrero Rocher chocolate candy and mixes it with low sugar strawberry or raspberry jam - low sugar because it looks more like pasta sauce, Laura says.
4. Then she uses a zester and sprinkles white chocolate on top to make it look like parmesan cheese!
Butter Cream Transfer:
1. Take a page out of a coloring book or you can print an image from the computer and cover it with wax paper and then using a small tip -- Laura uses a number 3 tip -- just trace the design with icing.
2. Once you have your background and outline done then you go back in and start filling in with colors.
3. Let it sit in the freezer for 1 to 2 hours and when it's done, picture perfect!
4. Take it out of the freezer and let it come to room temperature, which takes about 15 to 20 minutes.
Using two different Wilton tips Laura creates three different flower designs on cupcakes.
Cupcake with Roses:
1. Using a 1M tip, hold the bag at 90 degrees to the cupcake.
2. Start from the middle, squeezing with even pressure and work your way clockwise to the cupcake. 3. Create a cone-shape by making a circle and then bringing it in a little bit taller. When you get to the top just release and pull off.
Cupcake with Flowers:
1. Use a Wilton 124 tip.
2. Hold it with the skinny end facing out at a 45 degree angle to the cupcake. Take it from the inside and you squeeze out and in, turning the cupcake with your bottom hand.
3. Once you finish that second layer, you have a little bit of a hole right in the middle - just squiggle on top.
You can buy decorating tips and piping bags for less than $2 each. Laura recommends making your own icings over the store bought brands. She says it gives you much more control and it gives you a much larger quantity to work with.
Laura's favorite site for tutorials:
Click here to get her recipe for butter cream
.