Deals Episodes
Budget Party Appetizers: Tips for Making Veggie Tray and Salsa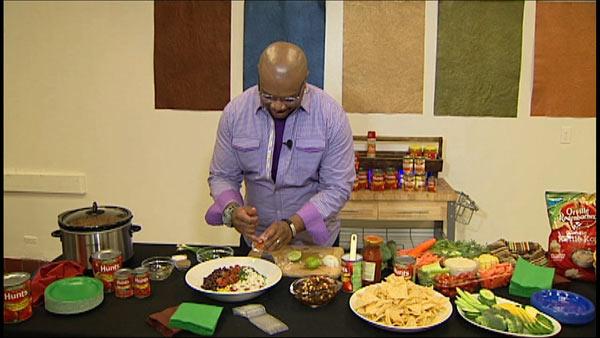 Entertaining on a dime? No problem says chef Aaron McCargo, Junior. In his book, 'Simply Done, Well Done,' Aaron shows people how to make easy, flavorful recipes by using simple ingredients. He shares two party appetizers that you can make on a budget -- vegetable tray and salsa.
"I'm one of those chefs that's all about saving a buck, having a lot of big bold flavor to the table and make sure when you're having a party make it simple as possible," said Aaron.
Aaron gave us a few tips on how to whip up two party favorites, on a budget.
Vegetable Tray:
Think about colors, use broccoli, zucchini, celery, red bell peppers, and squash.
Don't just break off the broccoli florets, instead cut them while holding the crown of the broccoli in your hand. Then, turn it over and the shape will stay on the plate.
Cut zucchini on the bias, to make it longer and stronger, so it can hold dip.
Cut celery sideways - instead of just cutting it straight across (like it comes on the prepackaged store trays)
Hollow out a tomato and use it to display the dip
When cutting the vegetables, especially carrots, celery or anything with a crunch - store it in ice water. it allows it to be nice and crunchy.
Make smaller trays and keep a few refrigerated so when one is empty you can bring a fresh, cold tray out for your guests.
Salsa:
Aaron digs in the pantry and uses leftover veggies for a beautiful, colorful salsa. The recipe is below.
Ingredients:
1 cup of corn
1 cup of kidney beans
1 can of fire roasted diced tomatoes (use juice)
1/4 cup of cilantro
1/2 an onion
1 lime
1 teaspoon cumin
pinch of salt
cayenne pepper to taste
3-4 scallions
Directions: Combine corn, kidney beans, and can of tomatoes with juice. Cut cilantro and use the stems. Aaron says the stems give the salsa a more lime flavor. Cut half of a white onion into tiny, diced pieces. Add cumin, salt and cayenne. Cut a lime in half and squeeze the juice into the mixture. For color, cut the green stem part off the scallions and add that to the mix.
For more information visit aaronmccargo.com.