Deals Episodes
Alternative Fuel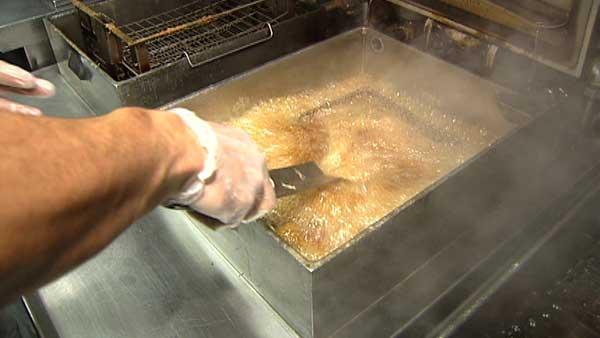 Six gallons of fuel for just six cents, sounds too good to be true, right? You too can drive and keep your cash in your pockets, but be warned, you this isn't for everyone!
James Smith, owner of Houston Biofuel shows us how to make our own bio-diesel. "It's an organic form of fuel, it's three chemicals you take vegetable oil, methanol and lye," he says. Smith first started experimenting with bio-diesel back in his marine corps days. "All of our hummers ran on diesels, when I was on recon I had to learn how to fix them - so I could fix them on the go. I found out they could run on jet fuel, tank fuel reg diesel, vegetable oil - you could basically throw anything in it and it could run off of it," he said.
Now, his backyard looks more like a fuel plant. "I've got a processing center back there where we can filter down vegetable oil to ½ a micron - so if I wanted to run straight vegetable oil I could, but instead I take it and make biodiesel out of it," he says.
By using bio-diesel he says he saves about three dollars a gallon, but that doesn't come without a lot of work.
James had built relationships with local restaurants where he gets used oil free. He does a pick up about every other week. "Chinese restaurants and Mexican restaurants are the best," he says, "first of all they use good quality oil and second they change it frequently."
Once he gets it home he lets it sit for about a week so all of the fried food particles settle to the bottom of the container.
From there, it goes into a separate large container and sits for about a month - again to filter out debris.
He makes an oil filter which warms and cleans the oil even more - which is the next step. "If you're doing the vegetable oil conversion, where you convert your car to run on 100% vegetable oil, that's it - you go from there to the car and you go," James said.
If you're making bio diesel you need to add methanol and lye. Exact measurements depend on how much your making.
He first mixes the methanol and lye together then adds it to his clean vegetable oil. Now, here's the fine print if you will, James says you can only use bio-diesel in automobiles older than 2006.
Next, if you're running just vegetable oil - you will have to purchase a converter which runs about $2,000-$3,000 - yeah that doesn't sound like a deal! James admits it's an initial upfront fee that a lot of people can't get over, but says it will pay itself off soon - especially when you're running on 1-5cents a gallon for vegetable oil.
If you're making bio-fuel, there's of course the cost of the methanol and lye and the machines to clean the vegetable oil and mix the bio-fuel. Though he says it's not necessary to have a machine and intricate or expensive as his.
His filtration tank will run you about $1,500, however James is offering Deals fans a 20% discount. Go to his website and type in DealsTV in the promo code.
For More Information:
www.houstonbiofuel.com
Get Social with Deals:
Like Deals on Facebook: facebook.com/DealsTV
Follow Deals on Twitter: twitter.com/Deals_TV
Pin Deals on Pinterest: pinterest.com/DealsTV/
Due to the pre-recorded nature of this program, some prices may not be current. Please check your local retailer.