Recipes
Vegetable Samosas with Fresh Coriander Chutney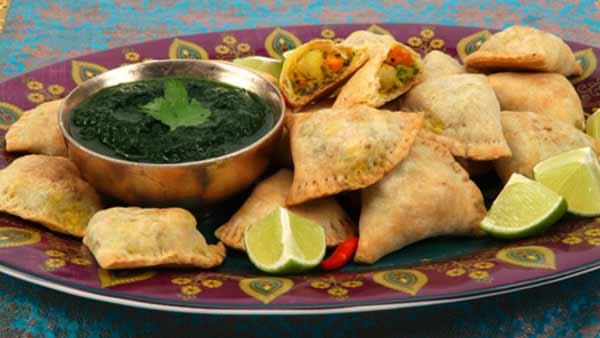 Servings: 24
Provided by: Kary Osmond
2 cups (500 mL) diced peeled potatoes
1/2 cup (125 mL) diced carrots
3 tbsp (45 mL) vegetable oil
1 tsp (5 mL) fennel seeds
1 tsp (5 mL) cumin seeds
1 tsp (5 mL) brown or black mustard seeds
1/2 tsp (2 mL) ground turmeric
1/2 tsp (2 mL) fenugreek seeds
1/2 tsp (2 mL) coriander
1/4 tsp (1 mL) cayenne pepper
1 onion, chopped
2 cloves garlic, minced
1 tbsp (15 mL) grated gingerroot
1/2 tsp (2 mL) salt
1/2 cup (125 mL) frozen peas
3 tbsp (45 mL) lemon juice
2 tbsp (30 mL) chopped fresh coriander
Vegetable oil, for frying
Directions
Dough:
2 cups (500 mL) all-purpose flour
1 tsp (5 mL) cumin seeds, preferably black
1/2 tsp (2 mL) salt
1/2 cup (125 mL) cold butter
1/2 cup (125 mL) milk
Fresh Coriander Chutney:
4 cups (1 L) fresh coriander leaves
1/4 cup (50 mL) water
Half a hot green finger pepper, seeded
4 tsp (20 mL) lemon juice
1/4 tsp (1 mL) salt3
Preparation:
Dough: In food processor or bowl with pastry blender, combine flour, black cumin seeds and salt ; pulse or cut in butter until in fine crumbs. Pulse or stir in milk until ball begins to form. Press into disc; wrap and refrigerate for 30 minutes. (Make-ahead: refrigerate for up to 24 hours.)
In large saucepan of boiling salted water, cover and cook potatoes and carrots until tender, about 10 minutes; drain.
Meanwhile, in large skillet, heat oil over medium heat; fry fennel, cumin and mustard seeds, turmeric, coriander and fenugreek seeds and cayenne just until cumin seeds begin to pop, 1 minute.
Add onion, garlic, ginger and salt ; fry until softened, about 3 minutes. Stir in potato mixture and peas. Stir in lemon juice and coriander; let cool.
Cut dough into 12 pieces; form each into flat round. On floured surface, roll out each to 6-inch (15 cm) circle; cut in half. Working with 1 piece at a time, moisten half of the cut edge with water. Form cone shape by overlapping cut edges by 1/4 inch (5 mm).
Fill with rounded 1 tbsp (15 mL) potato mixture. Moisten top inside edges of pastry; press to seal. Trim jagged edges. Crimp with fork.
In wok or deep saucepan, heat oil to 350°F (180°C) or until 1-inch (2.5 cm) cube of white bread turns golden in 45 seconds.
Fry samosas, in batches, until golden, about 4 minutes. Remove to paper towel-lined tray. Or bake in 425°F (220°C) oven for 15 minutes. Serve warm. (Make-ahead: let cool. Refrigerate in airtight container for up to 24 hours. Or freeze on waxed paper-lined tray; transfer to airtight container and freeze for up to 2 weeks. Reheat in 350°F /180°C oven for 10 to 20 minutes.)
Fresh Coriander Chutney: In food processor, puree together fresh coriander leaves, water, half hot green finger pepper,lemon juice and salt until smooth. (Make-ahead: Refrigerate in airtight container for up to 4 hours.) Makes 1/2 cup (125 mL).
Nutritional Info:
cal 133, pro 2 g, total fat 9 g, sat. fat 3 g, carb 12 g, fiber 1 g, chol 12 mg, sodium 200 mg, calcium 2%, iron 6%, vit A 11%, vit C 5% , folate 8%