Recipes
Garlic-Crusted Sirloin Tip Roast with Mushroom Gravy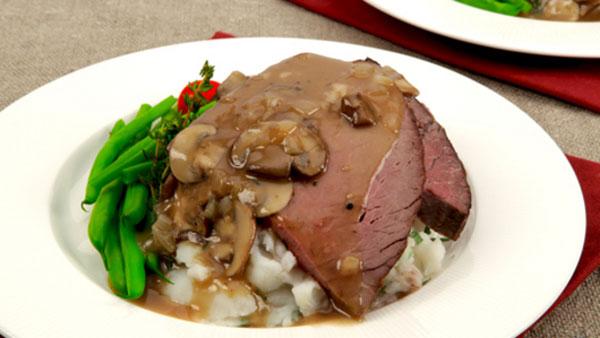 Servings: 8
Provided by: Kary Osmond
1 4 lb/2 kg beef sirloin tip oven roasts
10 cloves garlic, minced
2 tsp (10 mL) kosher salt or salt
2 tbsp (30 mL) vegetable oil
1 tsp (5 mL) pepper
Directions
Mushroom Gravy:
1-3/4 cups (425 mL) beef stock, (approx)
1 tbsp (15 mL) vegetable oil
1/2 small onion, finely chopped
2 cups (500 mL) thinly sliced cremini mushrooms
1/4 tsp (1 mL) salt
1/4 tsp (1 mL) pepper
1/4 tsp (1 mL) dried thyme
3 tbsp (45 mL) all-purpose flour
Preparation:
Place roast on rack in roasting pan. In bowl, mash garlic with salt to form paste; stir in oil and pepper. Spread over roast.
Roast in 500°F (260°C) oven for 30 minutes. Reduce heat to 275°F (140°C); roast until meat thermometer inserted into centre registers 140°F (60°C) for medium-rare, about 2 hours. Transfer to cutting board; tent with foil and let stand until temperature rises 5°F (3°C), about 10 minutes.
Mushroom Gravy: Meanwhile, skim fat from pan juices; scrape juices into glass measure. Add enough stock to make 2 cups (500 mL). Set aside.
In saucepan, heat oil over medium-high heat; fry onion, mushrooms, salt, pepper and thyme, stirring occasionally, until softened and no liquid remains, about 6 minutes.
Stir in reserved pan juice mixture; bring to boil. In small bowl, whisk flour with 1/4 cup (50 mL) water; stir into gravy and simmer until thickened, about 2 minutes.