Recipes
Crunchy Devilish Wings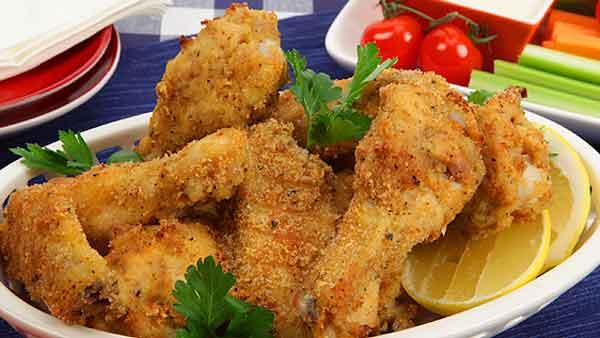 Servings: 6
Provided by: Kary Osmond
3 lb (1.4 kg) chicken wings
1/3 cup (75 mL) Dijon mustard
1/4 cup (60 mL) butter, melted
1/2 tsp (2 mL) salt
1/2 tsp (2 mL) cayenne pepper
1/2 cup (125 mL) dry bread crumbs
1/2 cup (125 mL) finely grated Parmesan cheese
1-1/2 tsp (7 mL) dried oregano or basil
Directions
Remove tips from chicken wings and reserve for stock if desired; separate wings at joint.
In large bowl, mix together mustard, butter, salt and cayenne pepper. Add wings, tossing to coat.
In shallow dish, combine bread crumbs, Parmesan cheese and oregano. Press wings into crumb mixture to coat all over; arrange on rack on foil-lined rimmed baking sheet. (Make-ahead: Cover and refrigerate for up to 4 hours.)
Roast in 400 degrees F (200 degrees C) oven, turning once, until crisp and juices run clear when wings are pierced, about 45 minutes.