Recipes
Chicken in Spicy Spinach Sauce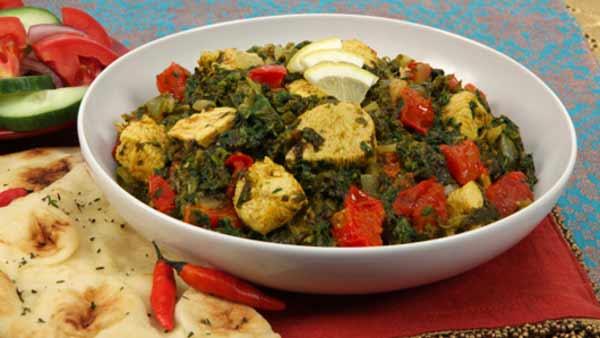 Servings: 4
Provided by: Kary Osmond
2 tbsp (30 mL) vegetable oil
1 small onion, finely chopped
2 garlic cloves, minced
2 tsp (10 mL) minced gingerroot
2 tbsp (30 mL) minced seeded jalapeno peppers
2 tbsp (30 mL) chopped fresh coriander
2 tbsp (30 mL) mild curry paste
1 pkg frozen chopped spinach, thawed and squeezed dry
1 tomato, chopped
1 cup (250 mL) chicken stock
1/4 tsp (1 mL) salt
1 lb (454 g) boneless skinless chicken breasts, cut in 1-inch (2.5 cm) cubes
1 tsp (5 mL) garam masala
Directions
In deep skillet, heat oil over medium heat; cook onion, garlic and ginger, stirring occasionally, for 3 minutes. Add jalapeņo pepper, coriander and curry paste; cook, stirring, for 1 minute.
Add spinach, tomato, stock and cook over medium-high heat for 2 minutes. Add chicken; cook for 7 minutes or until no longer pink inside. Stir in garam masala.
Substitution: For a milder flavour, replace the jalapeņo pepper with 1/3 cup (75 mL) finely chopped sweet green pepper.
Serve with basmati rice or flatbread and a side plate of sliced cucumber, and onion if desired, with a wedge of lemon or lime to refresh the palate and subdue the mild heat of the sauce.
Nutritional Info:
cal 267, pro 30 g, total fat 13 g, sat. fat 13 g, carb 1 g, fiber 9 g, chol 3 mg, sodium 449 mg, calcium 9%, iron 14%, vit A 49%, vit C 42% , folate 29%