Recipes
Braided Cheesy Beef Sandwich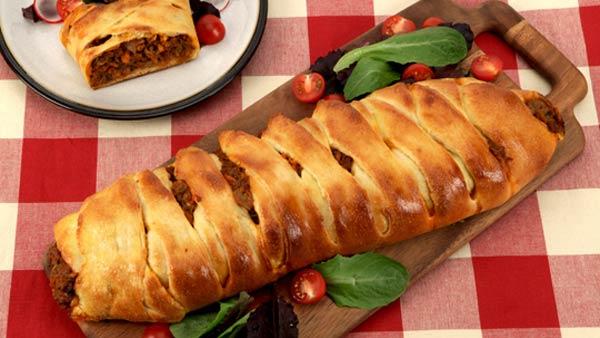 Servings: 6
Provided by: Kary Osmond
2 tbsp (30 mL) cornmeal
1 lb (454 g) pizza dough
1/2 cup (125 mL) shredded mild cheese
1 egg, beaten
2 tsp (10 mL) vegetable oil
1 grated zucchini
1 grated carrot
1 tsp (5 mL) dried basil
1/4 tsp (1 mL) each salt and pepper
3 cups (750 mL) Ground Beef and Sausage Mix Recipe
1/2 cup (125 mL) chili sauce
1 lb (500 g) mild Italian sausage
3 lb (1.5 kg) lean ground beef
2 tbsp (25 mL) vegetable oil
3 onions, chopped
3 cloves garlic, minced
6 cups (1.5 L) sliced mushrooms (1 lb/500 g)
1 cup (250 mL) beef stock
1 can (5-1/2 oz/156 mL) tomato paste
Directions
Filling: In saucepan, heat oil over medium heat; cook carrot, zucchini, basil, salt and pepper, stirring occasionally, for 3 minutes. Add Ground Beef and Sausage Mix and chili sauce; cook, stirring occasionally, for about 15 minutes or until liquid is evaporated.
Sprinkle cornmeal onto greased large rimmed baking sheet; set aside. On lightly floured surface, roll out pizza dough into 15- x 10-inch (40 x 25 cm) rectangle; transfer to baking sheet. Sprinkle cheese in 4-inch (10 cm) wide strip lengthwise down centre of dough. Spoon meat mixture over cheese.
Using sharp knife and starting at 1 corner of dough, make 10 cuts diagonally to form strips about 1-1/2 inches (4 cm) apart, stopping about 1/2 inch (1 cm) before filling. Repeat with other side, starting at corner across from initial starting point. Brush strips with some of the egg. Fold strips over filling, alternating from side to side to create braid. Brush top with remaining egg.
Bake in centre of 425°F (220°C) oven for 5 minutes. Reduce heat to 400°F (200°C); cook for 15 minutes longer or until golden.
Ground Beef and Sausage Mix:
Remove sausage from casings; cut into small pieces. In large saucepan, cook sausage and beef over medium-bigh heat, breaking up with spoon, for about 10 minutes or until no longer pink.
Drain off all liquid into 2-cup (500 mL) measure; set aside. Transfer meat to bowl; set aside.
Add oil to pan, reduce heat to medium. Cook onions, garlic and mushrooms, stirring often, for 8 minutes or until softened.
Skim off fat from top of reserved liquid in measure; add enough beef stock to make 2 cups (500 mL). Pour into pan.
Return meat mixture to pan; stir in tomato paste. Bring to boil; reduce heat and simmer for 20 minutes. Divide among airtight containers; let cool in refrigerator. Mix can be frozen for up to 2 weeks; thaw in refrigerator.
Tip: Freeze the Ground Beef and Sausage mix in convenient amounts or in 3-cup (750 mL) batches for our recipes. For quick thawing, microwave 3 cups (750 mL) at Thaw/Defrost for 8 to 10 minutes.