Recipes
Apple Cherry Strudel Roll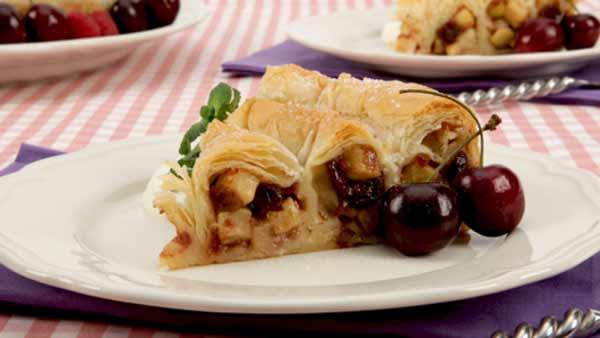 Servings: 6
Provided by: Kary Osmond
8 sheets phyllo pastry
1/4 cup (60 mL) unsalted butter, melted
2 tsp (10 mL) icing sugar
Pinch cinnamon
Directions
Filling:
4 tart apples, peeled and finely chopped
2/3 cup (150 mL) dried cherries or dried cranberries
1/4 cup (60 mL) packed brown sugar
3 tbsp (45 mL) all-purpose flour
3/4 tsp (4 mL) cinnamon
Preparation:
Centre 9-inch (2.5 L) springform pan on foil square; press up against side of pan. Set aside.
Filling:
In bowl, toss together apples, cherries, brown sugar, flour and cinnamon; set aside.
Arrange 1 sheet of the phyllo on work surface, keeping remaining phyllo covered with damp towel to prevent drying out. Brush lightly with butter. Top with second sheet; brush lightly with butter.
Spread one-quarter of the filling in strip along closest long edge of phyllo, leaving 1/2-inch (1 cm) border at each end. Fold ends over and roll up firmly jelly roll-style; brush lightly with butter. Arrange roll around inside edge of pan. Repeat with remaining ingredients to make 3 more rolls. Fit each into pan, coiling toward centre to form spiral.
Bake in bottom third of 425°F (220°C) oven for 15 minutes. Reduce temperature to 375°F (190°C) and bake for 50 minutes longer or until golden brown and crisp. Remove foil; let cool in pan on rack for 15 minutes. Run knife around edge of pan.
Remove side of pan; transfer to cake plate. (Can be set aside at room temperature for up to 4 hours; reheat in 375°F/190°C oven for about 20 minutes.) Sprinkle with icing sugar and cinnamon. Serve warm.
Nutritional Info:
cal 324, pro 4 g, total fat 9 g, sat. fat 5 g, carb 60 g, fiber 4 g, chol 21 mg, sodium 201 mg, calcium 2%, iron 8%, vit A 8%, vit C 10%