null
Kary Osmond
Host of Best Recipes Ever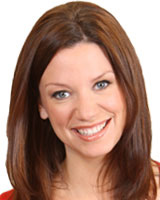 Kary Osmond loves being the face of the Live Well Network's cooking show, Best Recipes Ever. Kary is the ambassador of back-to-basics food, teaching viewers how to prepare the very best of Canadian Living's renowned recipe library, one 'Tested Till Perfect' recipe at a time.
Growing up, Kary's parents owned a Ukrainian deli and her passion for food developed as she chopped vegetables and rolled Swedish Meatballs to support the family's catering business. Then, to earn a badge for Brownies, Kary made her Mom breakfast in bed and discovered two things: that she was born to cook and that cooking can be messy. Kary quickly became responsible for helping get dinner on the table each night -- salads and scrambled eggs were often at the top of her recipe list.
As an adult, Kary tried her hand at corporate life with a career in marketing but found herself daydreaming about Key Lime Pie when she was supposed to be developing pie charts.
Kary decided to pursue her culinary dream by learning the art of butchering meat and signing up for training at The George Brown College Chef School. Kary chose courses in ethnic cooking and opted for classes in food theory to learn the "whys" of cooking. Soon after, she landed a head cook position at a popular Toronto restaurant where she got hands-on experience developing recipes and menus for brunch, lunch and dinner.
Kary is proud to dish out her food inspiration on LWN's Best Recipes Ever -- sharing the best of Canadian Living's "Tested Till Perfect" -- brand recipes with people across the country.