Let's Dish Episodes
Masoor Dal Lentil Soup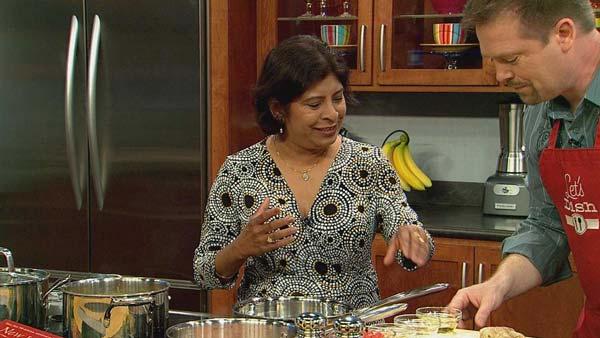 Lentil expert, Madhu Gadia, shares her recipe for masoor dal lentil soup.
Serves: 4
Serving Size: 1 cup
To get the best flavor of this dal, cook until the water and dal do not separate. Serve it over rice or with any hearty whole grain bread.
Ingredients:
1 cup lentils (whole masoor)
5 cups water
1 teaspoon salt
1/2 teaspoon turmeric
1 1/2 tablespoons vegetable oil
1/2 teaspoon cumin seeds
1 cup onion, finely chopped
2 teaspoons ginger, grated
1 cup tomatoes, finely chopped
1/4 teaspoon cayenne pepper (optional)
1 teaspoon fresh lemon juice
1. Clean masoor dal of any extraneous material. Wash in 2 - 3 changes of water.
2. In a medium saucepan combine masoor dal, 5 cups of water, salt and turmeric. Bring to a boil on high heat. Reduce heat, cover tightly with a lid and simmer for about 1 hour, until the lentils are very soft. To cook in a pressure cooker put the lentils, 3 cups of water, salt and turmeric in pressure cooker. Cover with a lid and put pressure weight in place. Cook on medium heat until pressure develops, reduce heat and cook under pressure for 5 minutes. Cool completely before opening pressure cooker. Return to stove and continue to simmer.
3. Check for desired consistency. For best results cook lentils until the beans and water do not separate.
4. To prepare chounk (seasoning): In a small fry pan, heat oil to a near smoking point; add cumin seeds. Fry for a few seconds until cumin seeds are golden brown. Add onions and ginger, fry for 3 - 4 minutes until onions are brown. Add tomatoes and cayenne pepper, if using. Cook for another 2 - 3 minutes until tomatoes are tender. Mash tomatoes with back of spoon. Add the chounk to the dal.
5. Add lemon juice and stir. Transfer to a serving bowl.
Nutritional Analysis: Calories: 220; Carbohydrate: 30 g; Fat: 6 g; Sat fat: 0 g; Chol: 0 mg; Dietary Fiber: 9 g; Protein: 14 g; Sodium: 538 mg
Modified from New Indian Home Cooking by Madhu Gadia, M.S., R.D. © 2000, ISBN: 1-55788-343-2, $16.95. Penguin Putnam, (website: www.cuisineofindia.com).